Luciditi creates digital trust.
It enables sharing of highly sensitive data in a
secure and privacy-preserving

way with others that you can trust.

Luciditi is a Re-usable Digital Identity Platform that protects businesses, users and systems, respecting data-privacy at all times.

Incorporating state-of-the-art data security technology, time-limited data access, biometrics, user consent and approval, real-time data exchange and AI to ensure that only genuine people participate. Luciditi protects sensitive data, increases privacy and makes it hard for hackers to impersonate others.

Leveraging our core Digital Identity Service, we provide re-usable digital identities, age assurance, identity verification, passwordless authentication, secure sharing of sensitive data, user consent, realtime remote and in person operation, data-access revocation, certified and custom digital credentials and more.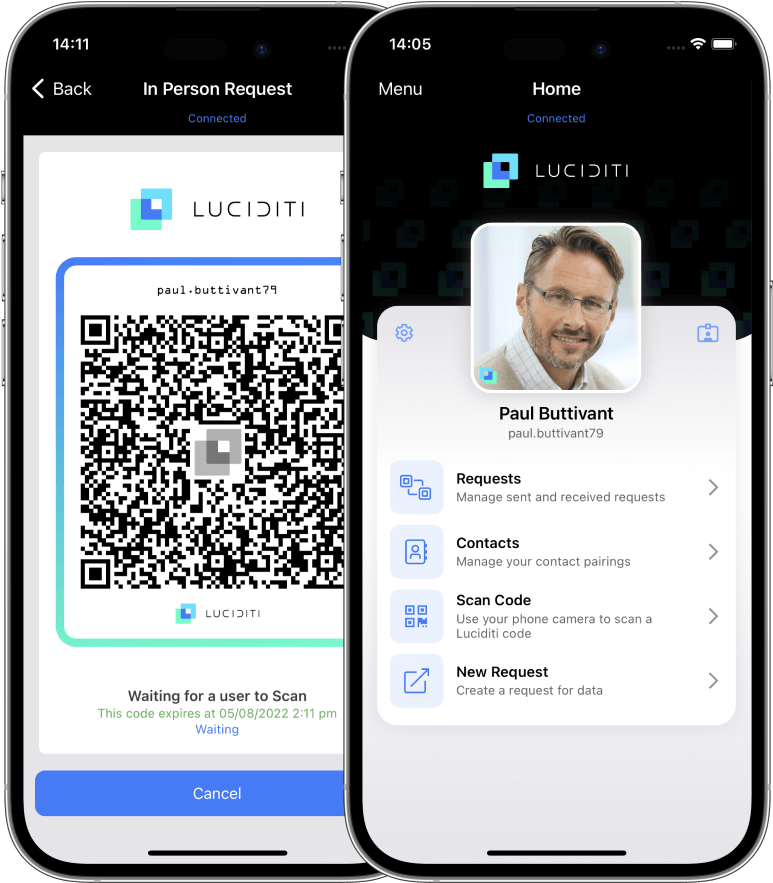 Luciditi provides a wide range of privacy-preserving, data protection, and fraud reduction technologies such as:
We embrace interoperability for the convivence of our users and society as a whole. We want to ensure Luciditi can be used in as many places with as many systems as possible, not just those built by us. Through standards adoption across industry there can be genuine end-user choice and avoiding a "5 wallets for 5 functions" scenario.
So whether it's to login to a website without a password, onboard users to new service, prove age on a web site or in person – without supplying your personal information every time – Luciditi takes care of trust and keeps your data safe.
Luciditi is a product of Arissian Ltd, a certified Digital Identity Service Provider (IDSP) under the UK's Digital Identity Attribute Framework (DIATF), specifically for Right to Work and Right to Rent. ISDP status signifies that the processes we use to verify identities meet the standards set by the trust framework and the confidence levels articulated in GPG-45.
Apply for your
Luciditi

Business Account

Comply with Age and Identity Regulation | Conduct Right to Work Pre-Employment Checks | Protect minors from inappropriate content and services | Secure Exchange Sensitive Data in Real-Time | Protect your cyber-perimeter with Passwordless Authentication. Signing up is free!
The
Leadership

Team

Our founders are technologists and software designers who specialise in Digital Identity, Data Security and Authentication. As proven entrepreneurs, they are used to building solutions that have significant and long lasting impact on society. They are passionate believers in personal data sovereignty and the huge potential Digital Identity has to reduce fraud.
Philip Young

Chief Technology Officer and Co-Founder

Philip has 30+ years' experience in software engineering and previously co-founded UK software business Docman. Docman manages clinical documents for two-thirds of the UK population, connecting Hospitals directly into GP's clinical workflow, vastly improving communication and improving patient outcomes. He exited Docman to Private Equity and remained on the board post sale prior to founding Arissian in 2014.

Ian Moody

CEO and Co-Founder

Ian also has 30+ years' experience in the technology sector working across Defence, Healthcare and General business in leadership roles. Ian pioneered the UK's first Electronic Prescription Service whilst at Pharmed an AAH subsidiary. EPS (as it is now known) is a crucial component of the NHS's operational tech stack, responsible for the delivery of virtually all of the 1.1 billion prescriptions issued annually in the UK.
The UK's first official
Digital Proof of Age Card

for UK residents 16 and over
Luciditi Age Proof is an approved PASS digital card - backed by the UK Government, Police & Security Industry Association. Available now on your smartphone via the Luciditi App.